Réserver Votre Table Réserez Votre Menu ou Commendez des Plats à Emporter
Call us today to book a table; Celebrate your happiness with us !
(+33) 0478261073
Discover Our Story
Les Porte de L'Inde is the perfect place to enjoy the most delicious, memorable, and authentic Indian meal in our restaurant in Villeurbanne, Lyon. We invite you to relish our fine-dining experience, complete with Indian spices and condiments served fresh out of Indian soil! We cater to family parties and celebrations of all kinds. We are probably the only the best Indian restaurant in Villeurbanne serving Halal food and takeaways.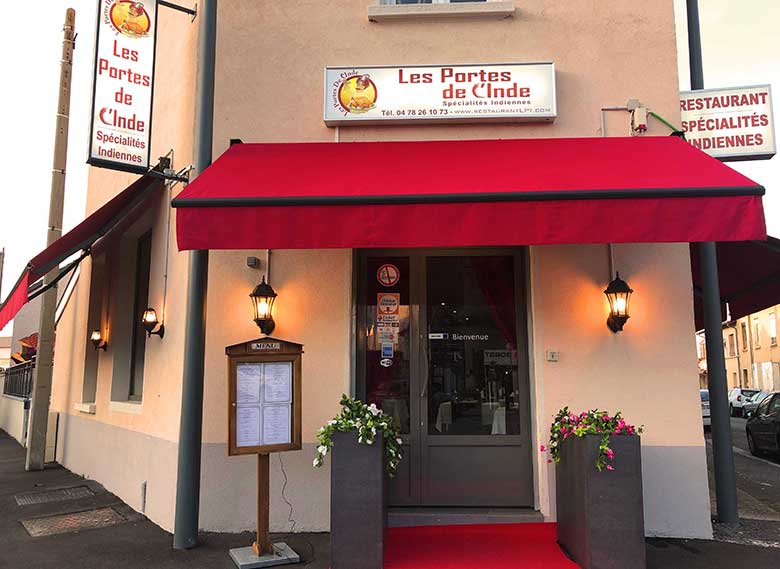 About Les Portes De L'inde Restaurant
Les Porte de L'Inde, "Food gateway of India" in English, delivers on the promise of its name with an authentic, yet elegantly modern south, north, east and west Indian cuisine. Restaurateur Venu Naidu, inspired by his love for food and culture of his native India, assembled a talented team to create a world-class restaurant that would re-define how Indian cuisine is presented on the international gastronomic stage. The team endeavors to improvise the purest traditional, regional Indian cuisines, while creating innovative, modern dishes. Every epicurean's dream come true. Our passion is a contemporary restaurant offering dining experiences to satisfy all aspects of Indian cuisine, in a vibrant and trendsetting ambience
Les Porte de L'Inde in Villeurbanne, Lyon, is a place of gathering, a place of celebration, a place to unwind as much as it is a place for pleasure.
Our fine-dining restaurant which was earlier located in the Villeurbanne of Rhone, the new Les Porte de L'Inde in La soi is synonymous with exceptionally well–crafted Indian fine dining. Carefully set up by an Indian Chef with more than 50 years of experience in sautéing, tempering,  and creating magic with masalas, the restaurant aims to amalgamate the mysteries of the Indian flavors dishing it with the elan and panache of Lyon. With a team of carefully curated chefs who do their best to bring  the complexity and depth of masalas  that is typical of Indian food on to your table, while maintaining the rigorous standards of a fine-dining restaurant; our aim is to invite the sophisticated Lonnais with our rich Indian aroma and make it part of their diet. With an eye on establishing Indian culinary traditions and the complexity of hors d'oeuvre that it brings, Les Porte de L'Inde hopes that it will be able to catapult Indian cuisine as a serious contender in Lyon. We offer a full bar stocked with oldest wines, beers and Indian-palette inspired cocktails.
About the interior
Designed by one of the finest architects in India, who leaves no stone unturned to create an ambience where guests feel special . The palatial and resplendent interiors are well-suited to the restaurant's  location in Villeurbanne, Lyon. Tables with a view of the  street are  quintessentially, provocatively Lyon- cityscapic. The single-storeyed restaurant can seat any where between  80 and 250 guests; it is flooded with natural light, falling through the numerous French windows around the property. . By night, the mood takes on a glamorous allure, with the profusion of soft and ambient lights from tastefully crafted chandeliers which emanate sheer sophistication.
If you're craving for authentic and delicious Indian lunch or dinner , Les Porte de L'Inde is the perfect place  for you!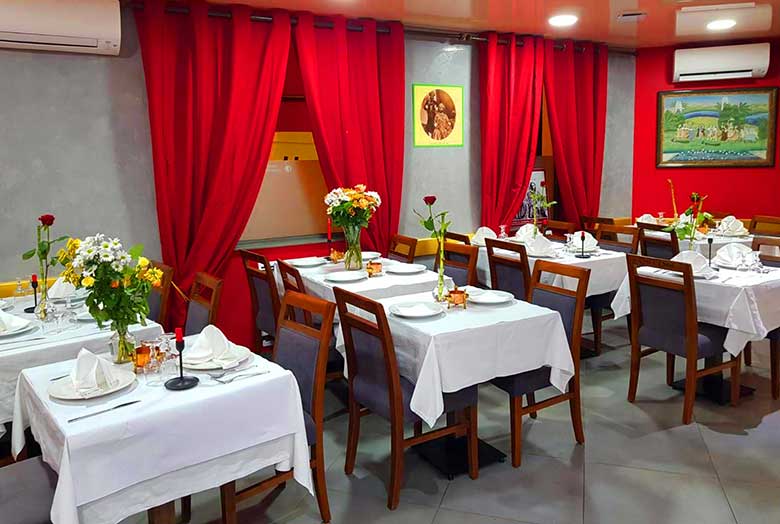 Hours of Operation
LUNCH
11:30 PM – 14:30 PM Daily
DINNER
18:30 PM – 22:30 PM Daily
Private Events
Les Porte de L'Indie restaurant have been delighting guests as premier private event venues. Our team includes experienced chefs, a highly trained service staff and a dedicated events manager who will guide you every step of the way as you plan your event.
Private Dining Room
Corporate Events | Meetings | Bachelor & Bachelorette Parties
Be it a corporate event, cocktail party, luncheon, dinner, meeting, shower, bat/bar mitzvah or rehearsal dinner, we know what you are looking for and we are confident to offer you and your guests a truly memorable experience. We have a variety of private event spaces that can accommodate up to 250 guests. Complete restaurant buy-outs are also possible. The restaurant has private and semi-private dining options. The private dining room is available to seat from 16 to 30 persons. What sets our party rooms apart is that they are unique and affordable, with no rental fees but appetizing food and beverage.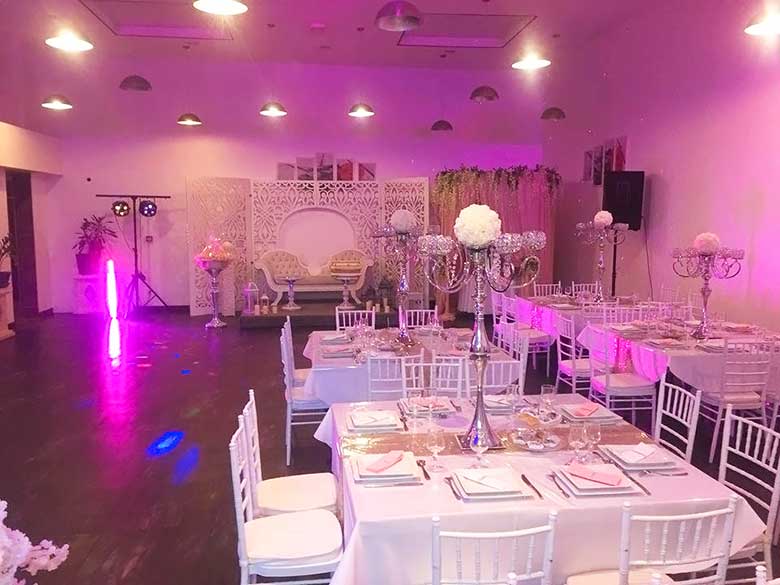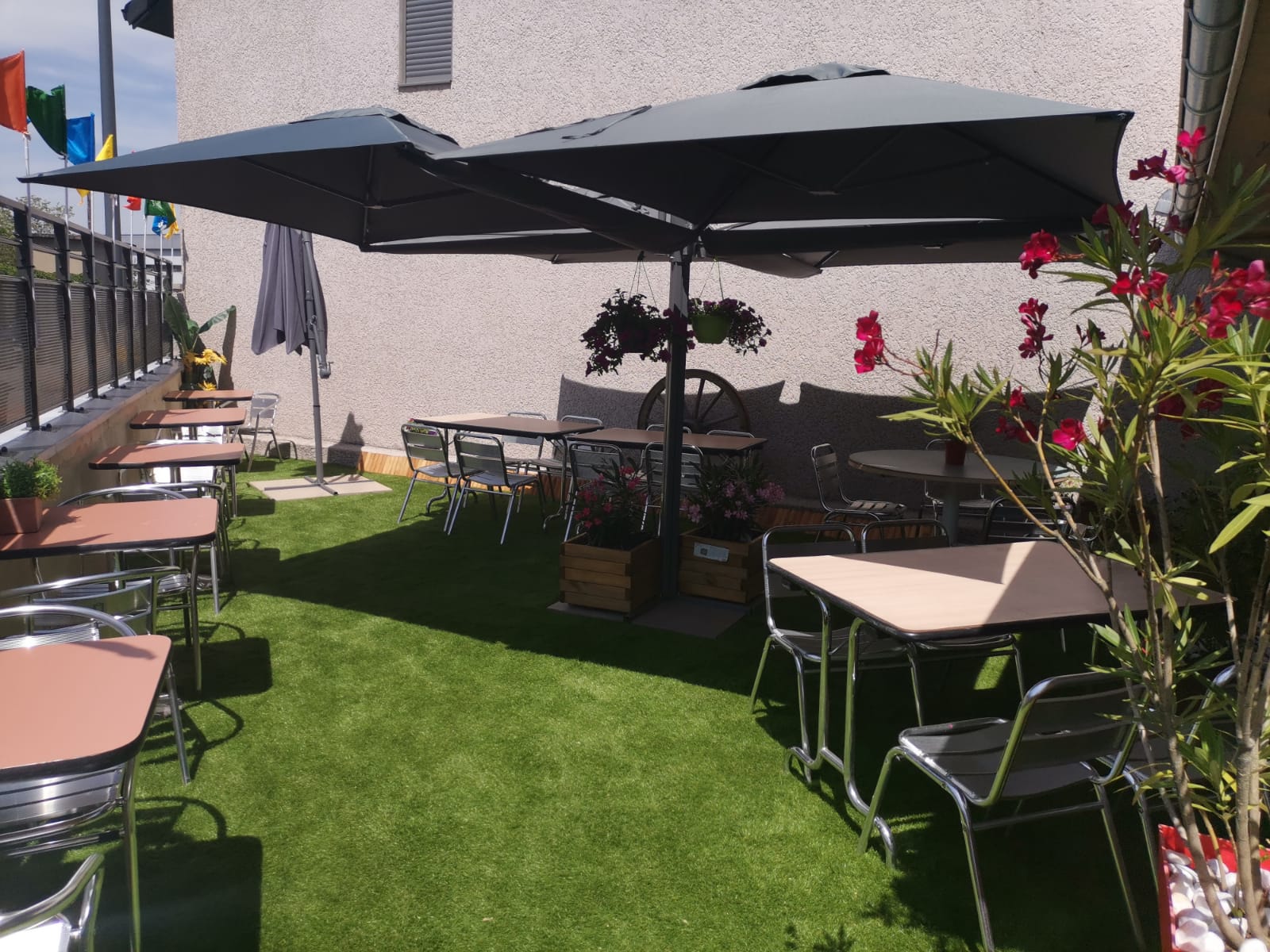 Social Events
Birthdays | Anniversaries | Brunches | Celebrations
We offer both partial and full buy-outs of the restaurant, depending on the desired time  and footfall. Ranging from  large groups of up to 250 persons for sit-down dinners or up to 400 persons for a cocktail reception, we will be happy to facilitate your event booking and also discuss planning details. For further information or to arrange a visit, please contact our restaurant manager at (+33) 0478261073
Thank you for giving us the privilege to make your celebrations special at  Les Porte de L'indie!
Gallery
We fall back on the dictum "A picture is worth a thousand words", to display our tempting selections.

Order Online
If you're in the mood for authentic and delicious Indian cuisine, Les Porte de L'Inde is the ideal place to walk in! We are open only for lunch and dinner . Give us a call today to book a table, order take-outs, or schedule catering for your bulk orders!Give us a call today to make a reservation, order take-out, or schedule catering for your next event or celebration!
Choose from Les Porte de L'Inde's list of top delivery services, for authenticated Indian savouries.
For a quick nibble or instant pick-up, download our a' la carte. We entertain orders even through phone. This service of ours is planned with your time in mind
If you'd like to pick-up instead, please call us now to place your order. Download our menu for an easier ordering experience.